The Green Potential of Intellectual Property: Success Stories – Applicability of Intellectual Property for Sustainable Development.
For the second consecutive year, AL-INVEST Verde IPR joined the emblematic Green Rio event to promote sustainability through IP, in collaboration with INPI Brazil.
Leading experts in sustainability and IP participated in the event, sharing their knowledge and experience to promote sustainable development in Latin America.
Experts at the Event included:
Júlio César C. B. Reis Moreira. President of INPI Brazil, whose extensive experience in IP provided an invaluable perspective on the role of IP in sustainability.
Diana Montero Melis. Deputy Head of Unit, South America and Directorate General of Regional Operations of International Alliances (DGINTPA), European Commission, offered a global vision on the relationship between IP and sustainable development.
Luis Fernando Samper. IP Consultant, expert in the incorporation and valuation of sustainable factors in local products, such as coffee, through geographical indications.
José Antonio Cardoso Fonseca. Technical analyst at SEBRAE, known for his use of collective brands as a tool to promote development, especially in Tefé, in Amazonas.
Alfredo Carlos Rendón Algara. Representative of the Government of Michoacán, Mexico, with experience in Economic Affairs and Geographical Indications, shared his valuable knowledge of collective brands, geographical indications and sustainable development policies.
Robson Dias da Silva. Economic Affairs Officer at the ECLAC Desk in Brazil, highlighted the crucial role of IP in the development and adoption of green technologies.
During the three-day event, AL-INVEST Verde IPR also had a stand dedicated to promoting its joint activities with INPI Brazil, where attendees could discover first-hand the exciting world of GIs and how they are helping to shape the future of sustainability in Latin America.
We at AL-INVEST Verde IPR, would like to thank all the visitors and participants who contributed to the success of our participation in Green Rio 2023. We commit to continue promoting sustainability through IP, challenging our limits and working together towards a greener future in Latin America.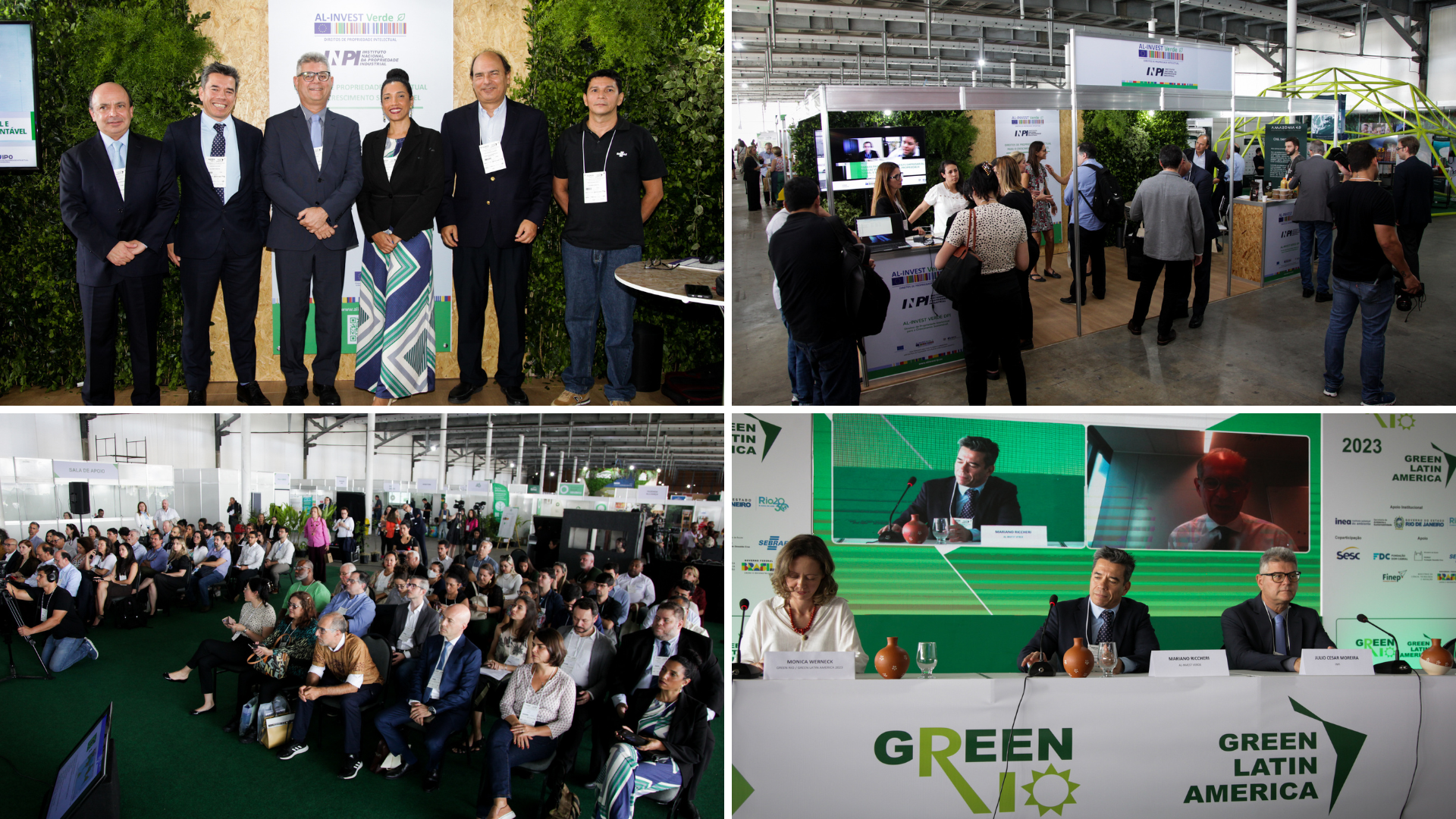 Click HERE to know more details about the event.