Among the cluster of Cambodian sea salt farmers in Kampot province in Southern Cambodia, Thaung Enterprise stands out. The sea salt farm has a history since ancient times - the Angkor era. Before 1986, the salt farm was under the control of the state. In 1986, the state offered the ownership to private. The passionate sea salt farm was established then and became a registered private company in 2016. The company works with the farming community in Kampot, serving healthy and beneficial products using local resources, which they believe improves the community's wellbeing and lifestyles significantly. Currently they offer a variety of Kampot sea salt products, namely fleur de sel, aromatic fleur de sel, flake salt, fine salt, and coarse salt.
'As we are passionate about food, we are striving to bring ingredients with better quality to the marketplace with a fair price and sustainable development to boost revenues for our farmers and community', said Ms Thyda Thaung, the co-founder of Thaung Enterprise alongside Mr Narin Bun. The company and the farming community also try to protect the environment and biodiversity and become a model for female empowerment to inspire other communities.
Thaung Enterprise's business changed from family business to SME five years ago. With this new business model and company structure, the business needs to focus heavily on production, administration, and business development. 'We need to make sure this value chain can grow day by day as we are all building from scratch in this industry', Ms Thyda added. Currently, they are paying special attention to harvesting and processing quality raw materials from farms, continuing to keep up the high standard in cleaning, sorting, grading, and packaging the products, and ensuring nutritional quality and food safety to their consumers. Their quality control team, the finance department, the logistics department, the research & development team, and the sales & marketing team are working to ensure growth in both the retail and export markets locally and internationally.
Doing business in the global market has become all the more competitive. In this regard, Ms Thyda believes that to build their confidence, secure a return on investment and gain consumer trust, they require not only product quality but also an efficient branding strategy. Unfortunately, many companies in the market use a logo that resembles that of Thaung Enterprise to confuse consumers and lure them into buying counterfeit goods, which can affect their sales volume and brand reputation and this can happen both within Cambodia and abroad.
Consequently, protection of IP rights is an essential part of the company's process of building a strong brand image; as Ms Thyda suggested, 'IP plays a crucial role in our business as trade marks protect us, ensure that people know who we are and understand our products, and allow us to grow day by day with confidence. It builds our relationships with our consumers creating trust and fidelity.'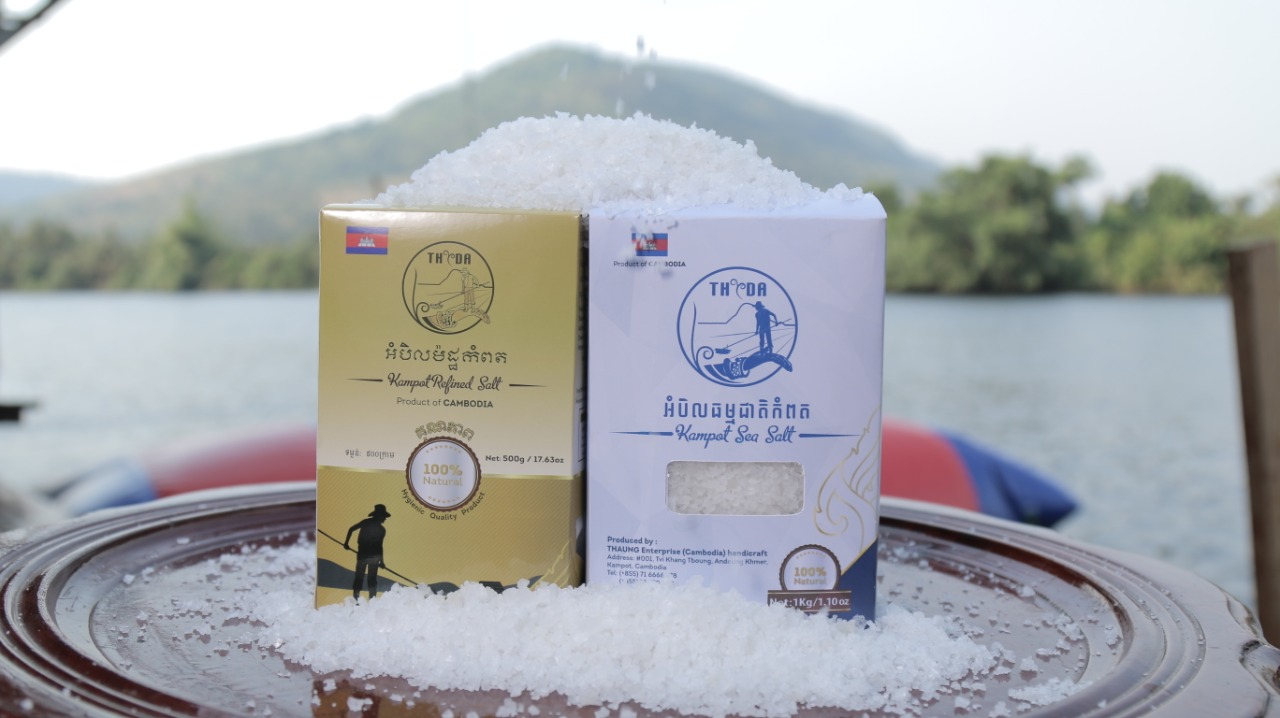 Having a trade mark registered, either nationally with the Cambodian IP Office or internationally through the Madrid System administered by the World Intellectual Property Office (WIPO), the company feels safe and secure as their brand is protected by law. Thaung Enterprise registered their trade mark with the Cambodian IP Office at the Ministry of Commerce and is interested in the international registration as they aim to continue exporting their products overseas.
'The registration of a trade mark helps us to be more confident in protecting ourselves in business as more branding is good for market competitiveness. It shows professionalism and compliance in the market', said Ms Thyda. Their sea salt products are not registered as a geographical indication (GI) yet. However, they are currently working with the farming community and local authorities to register and inform consumers about their product's characteristics and safeguard their brand identity.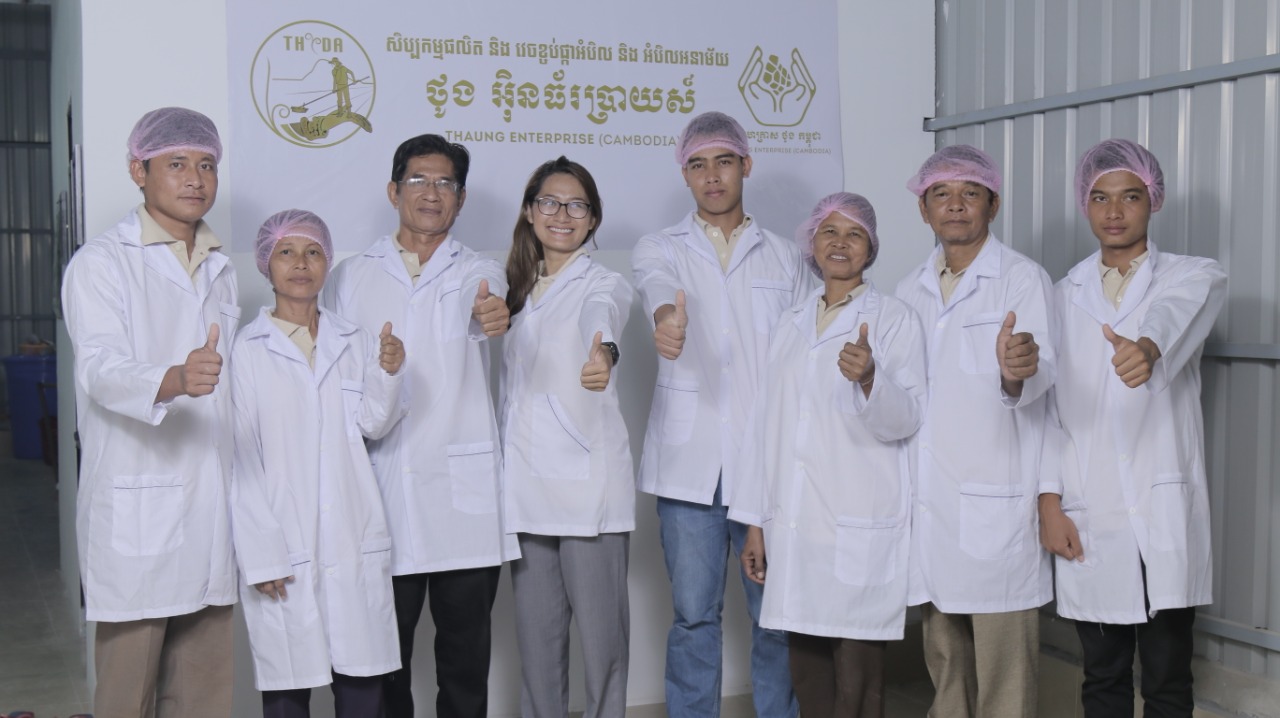 COVID-19 has become the most important threat to the growth of more than 500 000 legally registered micro, small and medium enterprises (MSMEs) in Cambodia ([1]), including that of Thaung Enterprise. 'COVID-19 is the real challenge of every business, including us. It likes a punch in the face', Ms Thyda predicted a drop in sales in both local and international markets. 'We still hope online shopping can support our sales volumes, but it needs time as the local market is not very familiar with e-commerce platforms.'
During the pandemic, the government provided the garment and tourism sectors with a subsidy, announced a tax exemption for several sectors in different provinces, and issued support loans from the SME Bank of Cambodia, recently established in 2019 ([2]). In addition to these initiatives, Ms Thyda is also looking forward to receiving technical and financial support in terms of IP protection, as she believes IP always goes hand in hand with business and recommends other SMEs to protect their IP like her.
'When designs are applied for, trade marks put into place and GI proposed to customers, IP flows with business strategy. We have different strategies to implement, and the IP strategy is very important in our business.'
In order to promote the protection and enforcement of IPRs in the region, the Cambodian IP office cooperates with several international organisations, including the EU-funded ARISE+ IPR project. The five-year project is implemented by the European Union Intellectual property Office (EUIPO). It supports regional integration in the ASEAN region through IP cooperation and aims to upgrade IP systems for IP creation, protection, utilisation, administration and enforcement, in line with international best practices and standards and the strategic objectives of the ASEAN IPR Action Plan 2016-2025.
Learn more about ARISE+ IPR mission and activities on the website, Facebook, Twitter and LinkedIn.